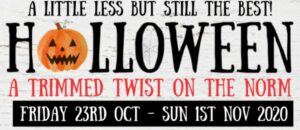 We are very excited to announce that our Holloween event will be happening again in 2020. Some things will be a little different, but despite offering a little less, the Hollow Trees Farm Holloween celebration is still the best!
The Holloween Trail is a 'trimmed twist on the norm' but there will still be lots of spooky fun for everyone to enjoy. There will be all our usual friendly animals to feed, ropes to swing on, poles to climb, and lots of fun and adventure all round. And NEW for 2020 is a golf course like you've never seen before. Our fantastic Magical Mini Golf will certainly challenge you all!
The special Holloween Trail will also include the popular Cresta Run Sledges, the Sorcerer's Straw Stack and the wild Witches Wood. Sadly, this year we cannot offer a Spooky Barn, Maze or inflatables, but rest assured the Holloween Trail may be smaller in size but it's going to be BIG on fun and still a Great Day Out!
There will be lots of pumpkins on sale too, grown on our farm by Farmer Bob with lots of care and attention given to each and every one. We've got large, small, knobbly and smooth, we are sure there's a pumpkin just waiting for you, whether it's to carve a spooky face on or to turn into deliciously tasty soup.
Throughout all of the Holloween event, outdoor seating and picnic areas will be available for you to enjoy food from our Farm Café takeaway menu. There's lots of lovely homemade food on offer, both hot and cold! The Farm Café Takeaway menu is available to pre order online with 20% off your first online order too.
Pre-booking for the Holloween Farm Trail event is ESSENTIAL! You can book by visiting our website, www.hollowtrees.co.uk. Tickets are £7 per person with children 2 years and under free. The Holloween tickets will be available to book online from Thursday 1st October 2020 onwards. We look forward to seeing you soon!